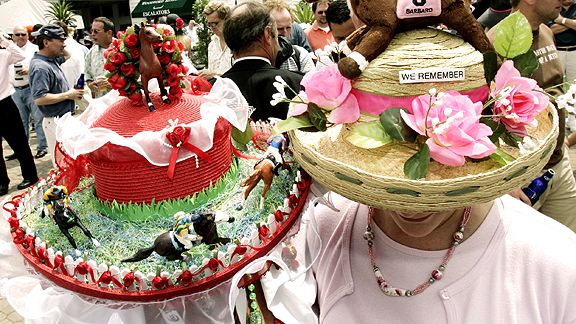 Timothy A. Clary/AFP/Getty ImagesAll eyes on Saturday will be watching the wacky hats at the Kentucky Derby.
As fans gather at Churchill Downs for Saturday's Kentucky Derby, all of paparazzi's eyes will be on something else: ladies' hats.
The tradition of bright colors at the Derby dates to the 19th century. But the crazy hats didn't come along until Millionaire's Row opened in the 1950s. It's then, that high society women felt comfortable wearing the big hats -- which were originally a sign of wealth. Like most trends, it slowly trickled down to the masses.
Christine Moore, who began as a hatmaker for Broadway shows over 22 years ago and now is one of many hatmakers who cash in on the great demand, points to Southern Belle style as the main inspiration.
She fell into the Derby hat market after she trying to sell some of her bestsellers at the time -- caps, that New Yorkers wear everyday.
But the Southern ladies were having none of it, until they saw one hat they liked: a giant pink hat with a pink bow on it.
"They said 'I'm not going to pay $200 for a cap I'm going to wear everyday,'" Moore remembered. "But they would easily pay $500 for something they'll wear once."
The belles of the Derby order their hats from hatmakers like Moore up to six months in advance. The only rule: the crazier the better. Hatmakers say they're willing to let loose on the accessories -- but it will cost you. Simpler hats start at $50, but the most elaborate ones can run upward of $700.
"The most important thing is to be comfortable," Moore said. "When the hat's too heavy and when they are struggling to balance their hats on their heads -- that's when it's too much."