The Slaughters United, a small English village cricket team from Gloucestershire, was struggling financially until it received a sponsorship parachute from an unlikely benefactor.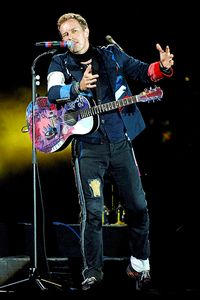 Shirlaine Forrest/WireImage/Getty ImagesChris Martin and Coldplay helped sponsor an English cricket team.
Paul Heming, the Slaughters's club secretary, heard rock band Coldplay had sponsored a local rugby team. Lead singer Chris Martin also once played cricket for neighboring team Great Rissington.
Heming quickly wrote a letter to the group asking for assistance for the team which plays in the Gloucestershire County League Division 4. He received a response within 24 hours from a band assistant saying the group would be "delighted" to help. Bassist Guy Berryman approved £750 ($1,145) to pay for new equipment. The only provision is the team will have to have the "Coldplay" name on their tops.
"It's a lot for this club," Heming told the BBC. ""I think there's probably more closet Coldplay fans than we were aware of since everyone's come out of the woodwork asking if they can get cheap tickets."
The team plays "for fun, the spirit of cricket and the odd beer or two," according to Heming, who invited the band to play, both on the field and maybe even a concert.