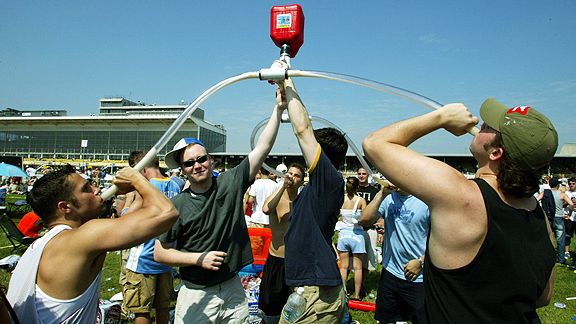 Timothy A. Clary/AFP/Getty ImagesNow that the Kentucky Derby is over, it's time to talk partying at the Preakness.
Forget the Kentucky Derby. Literally yesterday's news. The 135th running of the Preakness is in two weeks on May 15, so you know what that means, right? It's time to "Get Your Preak On!"
At least that's what the somewhat desperate folks at Pimlico Race Course in Baltimore want you to embrace. "Get Your Preak On" is the theme of an advertising campaign that centers on showing up to prowl the infield on Preakness Saturday and take advantage of the new "all the beer you can drink" program.
One radio spot is the fictional (we hope) story of a young male volunteer at a retirement home who gets his preak on with an elderly woman there. "How could I resist, especially considering this might be her last chance," he explains. "I was a little concerned with how her hip would hold up, knowing we would be at it all … day … long."
So the question is if this "preak on" commercial campaign is controversial because it is sexually suggestive and seems to embrace binge drinking -- or is it controversial because it is, well, incredibly stupid?
Break into study groups and debate while the Sunday Brunch rolls on.