CHARLOTTESVILLE, Va. -- By the time Will Bolton graduates from Virginia this summer, he may well be a national champion. But even if the Cavaliers don't win college lacrosse's ultimate prize, Bolton has his keen business sense to fall back on.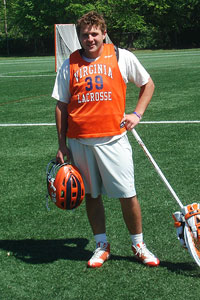 Shane Mettlen Will Bolton, now a goalie for Virginia, previously had a snow cone business.
Bolton, a backup goalie and urban and environmental planning major, had already opened, operated and sold his own small company before he ever set foot in the cage for the top-ranked Cavaliers. It was a cool venture. Or, more accurately, a cold one -- Bolton and a friend sold snow cones.
As a high school senior -- around the same time he was earning all-region and team MVP honors at Charlottesville's Monticello High School, just a few miles from UVA's campus -- Bolton and a teammate opened a snow cone stand on the city's popular pedestrian hangout, the Downtown Mall.
With about $5,000 in capital earned from a high-school landscaping business, they set up shop down the street from the bar where the Dave Matthews Band got its start. Much like DMB in the early '90s, Bolton and Co. became a mainstay in downtown Charlottesville for three years.
"We wanted to start an ice cream truck business, but the startup cost was too high," Bolton said of the switch to snow cones. "We went through all the hurdles getting the permits and all that and bought all the stuff on e-Bay. We built our own cart and we set up pretty much everyday for three years in the summer and traveled around to festivals throughout the state."