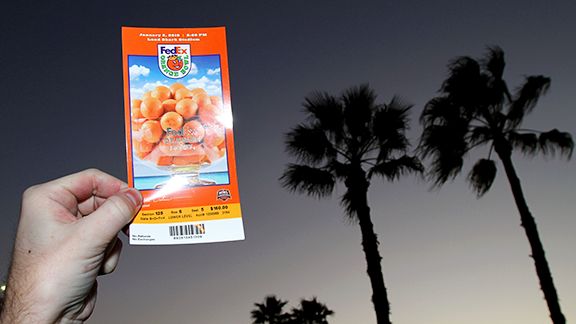 Doug Benc/Getty Images
After being associated with the Orange Bowl for 21 years, FedEx will no longer sponsor the BCS bowl. But don't worry -- the game should still start on time.
Now comes the scary part: waiting to see what entity will put its name on the game. In a world where an arena features both "KFC" and an exclamation point in its name, anything is possible.
With that at stake, Page 2 would be remiss not to suggest a few sponsors looking for visibility that the Orange Bowl should call.
Dwyane Wade, presented by the Miami Chamber of Commerce -- Please don't leave!
Tiger Woods -- As an apology for one of the worst moments in Orange Bowl history
Ashlee Simpson -- As an apology for the worst moment in Orange Bowl history
Florida Marlins -- Just a reminder that they play baseball at Sun Life Stadium, too
NFL Security -- Seemingly does more business on South Beach than Bacardi Gold
The ACC -- Hey, you break it, you buy it
Crockett and Tubbs -- Like the Orange Bowl, they were a much bigger deal 25 years ago
Luther Campbell -- Local flavor, plus the highest halftime show ratings ever