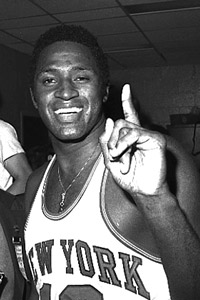 AP PhotoWillis Reed celebrates in the locker room after the victory over the Lakers.
To coincide with the 40th anniversary of Willis Reed's dramatic return for Game 7 of the 1970 NBA Finals on May 8, here are the greatest Game 7s in NBA history:
1. 1970 NBA Finals: Knicks beat Lakers 113-99
It was Game 7 of the 1970 NBA Finals, and nobody knew whether Willis Reed would play. The center and captain of the New York Knicks had suffered a torn muscle in his right thigh during Game 5 against the Los Angeles Lakers, and had not played in Game 6 when Wilt Chamberlain's 45 points and 27 rebounds enabled the Lakers to tie the series at 3-3. When the teams took the floor for pre-game warmups, Reed was not with his New York teammates. He remained in the locker room. "I wanted to play," Reed recalls. "That was for the championship, the one great moment you play for all your life. I didn't want to have to look at myself in the mirror 20 years later and say I wished I had tried to play." Reed took an injection to dull the pain in his leg, and just moments before tipoff he limped through the tunnel and onto the court. Waves of cheers cascaded down from the Garden stands as fans caught sight of the Knicks' captain, a sight that was not lost on New York's opponents. "I saw the whole Laker team standing around staring at this man," Knicks guard Walt Frazier said. "When I saw that, when they stopped warming up, something told me we might have these guys!" Reed lined up against Chamberlain for the opening tap and scored the Knicks' first two baskets of the game. Those would prove to be his only points, but his presence was more than enough to inspire the Knicks to a 113-99 victory and the franchise's first NBA Championship. Overshadowed by Reed's emotion-charged effort was one of the great playoff performances in NBA history by Frazier, who led the Knicks with 36 points and 19 assists.