It's been a busy weekend for country singer Miranda Lambert.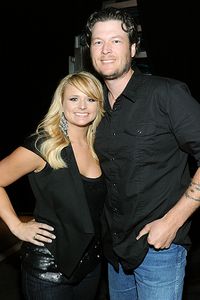 Frazer Harrison/ACMA2010/Getty ImagesMiranda Lambert and boyfriend Blake Shelton love watching NASCAR.
Saturday night, the 26-year-old Texan was performing in Spencer, Iowa, and trying to watch the NASCAR race at Darlington, S.C., on her television in her tour bus.
"I love wearing my NASCAR T-shirt and watching the races," said, Lambert, who has three favorite drivers: Kasey Kahne, Dale Earnhardt Jr., and Elliott Sadler.
"For those who don't like the sport, they just need to see a race live," Lambert said. "It'll make you a fan."
And Sunday, she is heading home to Texas to see her mother to celebrate Mother's Day. "I could get her anything she wants," Lambert said, "but all she wants is my time."
And Lambert, Sunday night, will be watching herself and friend Sheryl Crow on ABC's "Extreme Makeover: Home Edition" as volunteers. They also will sing a few songs, including Lambert's "The House That Built Me."
In a special story for Mother's Day, "Extreme Makeover: Home Edition" travels to Tulsa, Okla., to meet Toen and Amy Starkweather, whose 9-year-old son, Ethan, suffers from a rare disorder called Prader-Willi syndrome.
"I've always wanted to do the show. Everytime I watch it, I cry," Lambert said. "It's such a great cause and it's such a moving show, especially for Mother's Day."