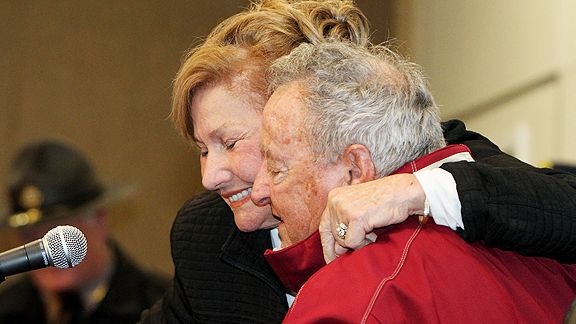 Doug Benc/Getty ImagesAnn Bowden did a great job supporting her husband, Bobby, and her coaching sons.
1. "I owe a lot to my parents especially my mother and father."
-- Greg Norman
2. "I know their mother -- she'd give them all my plays."
-- Bobby Bowden, on why he refused to play against his sons who were both college coaches
3. "I'd run over Grimm's mother too."
-- Matt Millen, after Russ Grimm said that he would run over his own mother to win the Super Bowl
4. "Don't forget --- my mother was a hell of a hitter."
-- Early Wynn, on stories that this Hall of Fame pitcher was so mean that he wouldn't even give his mother a good pitch to hit
5. "When I played baseball, I got death threats all the time -- from my mother."
-- Bob Uecker
6. "Good mothers are underrated, just like good defense."
-- Andy Van Slyke, former major-league baseball player
7. "I wouldn't want a dog to go through what I've gone through. I wouldn't even want my mother-in-law to go through it."
-- Larry Holmes, heavyweight champion, on all the bad publicity he received
8. "She showed me her gold medals when I was a little girl. I made a bet with her that someday I'd make an Olympic team and win."
-- Kelly McCormick, silver and bronze medal winner in diving, on her gold medal winning mother Pat
9. "If I was playing third base and my mother rounded third with the winning run, I'd trip her up."
-- Leo Durocher, Hall of Fame manager
10. "My love for her is greater than my love for the game that has made me independently wealthy and to whom I owe all I now possess. But it must be so."
-- Benny Leonard, boxing great, who retired on his mother's request
For more funny quotes about sports, check it out here.