Who says Page 2 can't make a difference?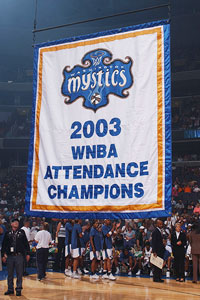 itchell Layton/NBAE/Getty ImagesLooks like this banner is coming down. Maybe Page 2 can make a difference?
A while back, we compiled a list of the lamest banners in sports -- ridiculous, absurd and stupendously ill-advised flags, officially-scantioned by a team or organization, raised for posterity out of (and we use the term loosely) pride. Topping our list? The Washington Mystics' 2002 and 2003 WNBA ATTENDANCE CHAMPION banners, hanging monuments to the everlasting glory of, uh, people showing up.
Anyway, it looks like someone was listening.
Posting at his "Ted's Take" blog, Washington Capitals owner Ted Leonsis just announced that he plans to take the banners down. His reason? In Leonsis' words, "the only banners we should display revolve around winning a division or conference or league championship."
Amen, brother.
There's a reason the Capitals have gone from chumps to contender -- from moribund to hot ticket -- under Leonsis' watch. There's a reason the staggering, strip-mined Wizards likely will improve now that Leonsis is set to assume control of the franchise. And who knows? Perhaps the Mystics -- a club whose first season was 3-27, and that has been snakebitten ever since -- may even own some laundry worth hoisting someday. Success starts with leadership, at the top, from the Verizon Center rafters on down.