BEVERLY HILLS, Calif. -- There's nothing Hollywood glitterati like more than coming out for a good cause. Except looking good while doing it. Over the weekend, celebs from the Hilton sisters to Brooke Burke attended the Nancy Davis Foundation's 17th Annual Race to Erase MS benefit, which raises research money for multiple sclerosis.
There was no shortage of sequin and glam, but the most athletic person at the ball was 2010 Winter Olympic gold medalist Lindsey Vonn, who held her own on the red carpet in a dashing pink dress.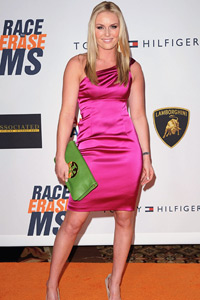 Jon Kopaloff/FilmMagicLindsey Vonn arrives for the 17th Annual Race to Erase MS Gala over the weekend.
The 25-year-old skier from Minnesota got her spokesmodel on and addressed the well-heeled crowd of nearly two thousand on the importance of MS research and didn't miss a beat when the teleprompter acted up.
After introducing Avril Lavigne, who treated guests to a mini-concert of her No. 1 hits, Vonn joined Avril on stage (along with '80s all-girl rockers Heart) for a kumbaya rendition of "Lean On Me".
Amidst all the air kisses, flash bulbs and goodwill, Page 2 was able to get some quality time with the world's fastest female shoosher.
What other fun things have you done during your down time?
I went to the White House Correspondents' dinner. Unfortunately, I didn't get to meet the president but we had a pretty interesting group at our table. There was Alec Baldwin, Mariska Hargitay, Jon Bon Jovi and Tom Brokaw. And my husband, of course. Alec was cracking jokes the whole time and kept everybody laughing. Bon Jovi was pretty quiet, though. We had a great time with all of them and we really enjoyed their company.
Who has been the most famous person to ask you for your autograph?
The JoBros! (Laughs.) The Jonas Brothers came up to me at the White House dinner to congratulate me for the Olympics and my jaw was pretty much on the ground. Those guys are so awesome and I was floored. I was just surprised that they knew who I was and followed me at the Olympics.