With all due respect to the brain trust at Maxim, but your top choice for hottest woman on the planet only proves the magazine seems to have forgotten one very important thing: It's the Maxim Hot 100 list, not the Maxim Great Personality list.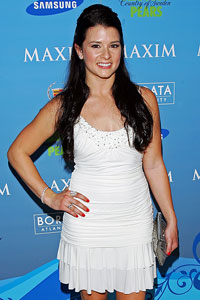 Evan Agostini/Getty ImagesDanica Patrick checks in at No. 25 on this year's Maxim Hot 100 list.
Look, no disrespect to Katy Perry, an accomplished singer and songwriter who now wears the crown as Maxim's hottest woman, but if she's the hottest girl in civilization, why did the mag choose Victoria Secret model Selita Ebanks for the cover instead of Ms. Hottie? Sounds like a subconscious admission that Ms. Perry ain't that hot.
I realize part of the fun of Maxim's list is that it's always good for stirring debate, but this year's list seems more flawed than usual. From the sports world, Lindsey Vonn, Danica Patrick, Grace Park, Stacy Keibler and ESPN sideline reporter Erin Andrews all made the list (Patrick was ranked the highest at No. 25). No arguments there. But did Elena Dementieva, Anna Rawson, and Natalie Gulbis, suddenly cease to exist?
Surely one of them could have replaced, say, Chelsea Handler?
And speaking of omissions, how can any list be taken seriously if it doesn't have Beyonce or Halle Berry as one of the world's 100 hottest women? Yes, Berry and Beyonce have made the list numerous times and part of the Maxim's challenge is to introduce new faces, but if regulars Angelina Jolie and Brittany Spears made the list, so should Berry and Beyonce.
And let's just face it, women like Berry and Beyonce just deserve automatic bids.
If Maxim's mission was to choose a No. 1 that would get everyone talking, it worked. But let's just say there are a lot of women who feel a lot more self confident today.