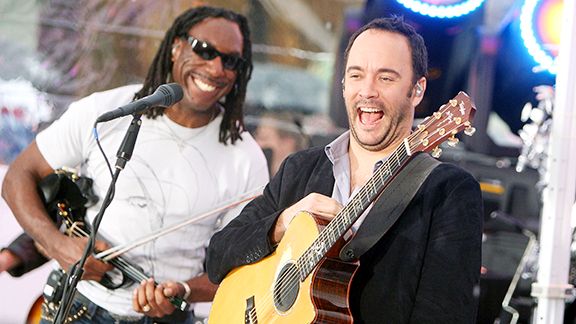 Stephen Lovekin/Getty ImagesBoyd Tinsley, playing in the Dave Matthews Band, sponsors a tennis program in Virginia.
Boyd Tinsley has got a thing for strings. And while his buddy Dave may have gotten his name on their Grammy-winning, multi-platinum-selling band, if you're talking tennis, Boyd is the headliner.
Tinsley, violin virtuoso for the Dave Matthews Band, is also pretty handy with a tennis racket and has the same kind of passion for the game he has for music. As a rock star he's been able to use his wealth and influence to help grow the sport.
"I've been watching the game since I was in my early 20s," Tinsley, who turns 46 in May said. "Andy Roddick is a friend of mine and he started sending me rackets and that really encouraged me to go out there and play."
As his love for tennis grew, so did his influence on the game, particularly in his hometown of Charlottesville, Va. In 2006, the Boyd Tinsley Courts were completed at the Boars Head Inn, a sprawling Blue Ridge Mountain resort.
The Tinsley Courts were part of a $7.5 million dollar expansion, for which Tinsley footed most of the bill, and provided his alma mater, the University of Virginia, with a state-of-the-art indoor facility. In February, the Cavalier men won their third consecutive ITA National Team Indoor Title at Tinsley's six-court, 1,200-seat arena.