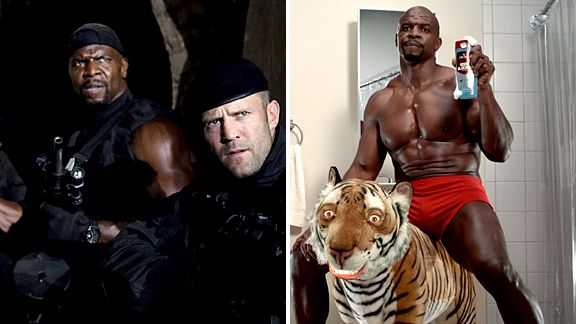 Karen Ballard, Old SpiceTerry Crews, who played in the NFL 1991-'95, has parlayed that into an acting career.
Not too many guys can claim their NFL playing days as some of the most forgettable of their professional career, but when you've played the Old Spice Odor Blocker, Cheeseburger Eddy and the president of the United States, a few minutes on the gridiron start to lose their luster.
Terry Crews, who played linebacker for the Rams, Chargers and Redskins between 1991 and 1995, is perhaps the prototype for athlete-to-actor crossover. When The Life caught up with him, he had just finished up a meeting about a reality show that he's directing -- not to be confused with his reality show "The Family Crews," which is going into a second season. His TV show with Ice Cube ("Are We There Yet?") premieres on TBS in June and he has three movies due out this year, including the anticipated action blockbuster "The Expendables."
"I'm the real Julius [Rock, his father character with two jobs from "Everybody Hates Chris"]. I have so much stuff going on, it's crazy. Five or six jobs at once, but you gotta do it, though. You gotta do it in this economy. I thank God for every single one of these opportunities," Crews, 41, said in a phone interview Monday during a break in his busy schedule. "I'm just happy that people want to work with me. I've finally reached that place in my career where people are like, 'Hey, yeah I'll take a meeting with that guy.'"
Riding an enormous wave of popularity surrounding the Old Spice Odor Blocker ads, Crews filled us in on what it's like to have some pa-pa-pa-pa-pa-pa-pow-er. Enough to block out the sun, to be exact.
Do you feel pressure to smell deliciously fresh every minute of the day?
Crews: Yes, I do. I'll tell you, I go to the gym and it's like, 'Oh man, I could really ruin the product right now!'