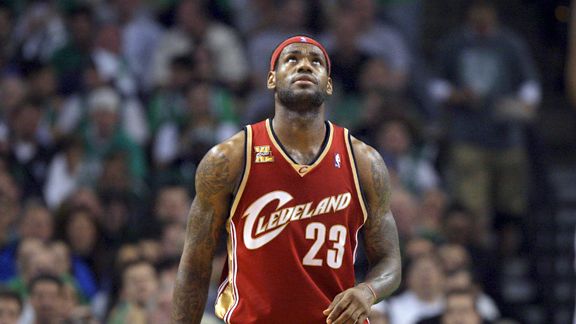 AP Photo/Elise AmendolaThanks, LeBron James, I'm going to have to listen to Skip Bayless crow for one year.
I know it's never cool to kick a brotha when he's down like four flat Pirellis, but I got beef with LeBron. I'm not mad with him for the Game 5 performance or the fact that I did the Vegas thing and put my house up as collateral on Cleveland winning the whole thing. Naw, Never that. My anger with him goes much deeper.
I'm mad at LeBron because from now on (and "from now on" can be a very long time) I have to sit on the set on ESPN's "First Take" and listen to Skip Bayless tell me (and everyone else that sits in that seat), "I told you so."
And he will torture me (us) with it like we'd been captured and sent to Guantanemo Bay. He even sent me the email with the early confirmation, a warning of how he was going to make my life a living LeBron hell.
"Scoop, you have no idea how miserable you made my 'First and 10' life the last three years -- you, Jalen [Rose], Jemele [Hill], The Stews [Doug and Ryan)] Jay [Crawford], Dana [Jacobson] ridiculing me day-after-day for calling him 'Prince' James and LeBrick. Even Wale and Common let me have it about LeBron. And now, finally, the 'First and 10' tabletop has turned! Get ready for at least one long year of payback. Now, when you all call me crazy, I can -- and will -- fire back: 'How crazy was I about LeBron?'"
LeBron, I still love you, but you just made the next year of my life miserable. The worst thing that could have happened just did: You proved Skip Bayless right. And I'm the one that's going to have to live with it.