Vin Scully joined Darren Smith and Randy Jones on XX Radio in San Diego to talk about longtime friend Ernie Harwell, his favorite type of game to watch and call, the 2010 Dodgers, Andre Ethier's late-game heroics, and the surprising Padres.
Here's a sampling: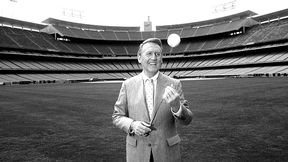 George Rose/Getty Images
Scully on Harwell, who died May 4: "I have always told people that I never succeeded Ernie; I just sat in his chair when he left Brooklyn. … We were richer indeed to have known him, and we are poorer now that he is gone. He gives us a high bar that he has set to match our lives against his."
Scully on the Dodgers' play so far this season: "Fred Allen wrote a book about his life, and the title was, 'Treadmill to Oblivion.' I think you've seen ballclubs that seem to be spinning their wheels and not going anywhere. That's the way the Dodgers were when they had Ramirez out and Furcal out. They were just trying to hang tough."
Scully on Ethier excelling in pressure situations: "He has gotten to the stage where he says: 'I relish the moment. I hope I get the moment.' Well, that's a pretty good sign. And he's been getting them. He's been so successful with all his walk-off hits and half-a-dozen home runs under those circumstances. He looks forward to it."