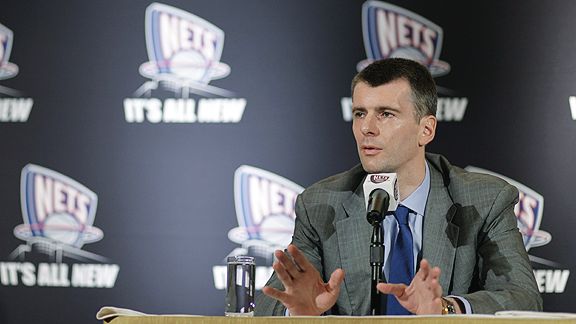 AP Photo/Mary AltafferNew Jersey Nets new owner Mikhail Prokhorov is confident he will have a winner and soon.
Mikhail Prokhorov joined Mike Francesa on WFAN in New York City to discuss winning NBA Championships, buying the New Jersey Nets, his status as a playboy, among other questions.
On when the Nets will win an NBA Championship:
"Minimum one year. Maximum five. We have everything at our disposal. We have a very good backbone on management side. And we are considering several outstanding players. And we have the element of surprise from Russia."
On if he would consider himself an international playboy:
"It's very difficult to say. My life affairs is just between my office and gym. Nothing in between. Though I don't hide the fact that I love women."
And on his own basketball ability:
"I was not bad, but not as great as these free agents coming. In Russia, unfortunately, basketball is not very popular compared with soccer and ice hockey. But, I used to play in school and in university for the amateur basketball league. Maybe I was not so good, I feel."
• Click here for a full transcript of highlights from the interview