PLANO, Texas -- Several of the 30 or so contestants at this weekend's Texas Tree Climbing Championships have suffered injuries you wouldn't find in a typical workplace.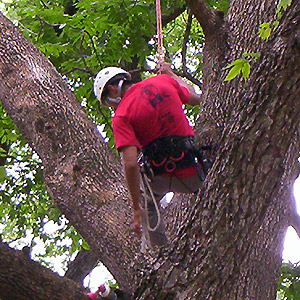 Courtesy of Troy PhillipsDefending champion Miguel Pastenes is trying to win his fifth Texas title.
Most of us haven't almost severed a limb with a chain saw.
Work is hard for these urban/suburban loggers. Cutting and safely lowering giant oak branches from 30 or 40 feet up while suspended by a rope and harness requires upper-body strength, staying alert and a healthy respect for gravity.
But that's work. This is play, and the 25th Texas Championships -- one of about 22 state competitions each year sanctioned by the International Society of Arboriculture -- is the first step to reaching big-kahuna status in climbing. The Texas champ gets an all-expenses paid trip to the 2010 ISA Championship, set for late July at an arboretum near Chicago.
The Texas event concludes on Saturday.
In Texas, the founding father of competitive tree-climbing is Steve Houser, a certified arborist (tree surgeon also suffices) who runs Arborilogical Services in the Dallas suburb of Wylie. Houser used to compete, but he's 50. The 20- and 30-something kids rule this sport. Resembling a 5-foot-9, 130-pound Gen. George Custer, Houser never won the Texas title, but climbers from his tree company have won 18 of the 24 awarded.