On Sunday afternoon, Andre Rison stepped onto a football field -- semi-suited up and ready to play.
It wasn't exactly the type of scene the five-time Pro Bowler was used to -- he was amped and ready to play in the inaugural NFL Players Flag Football Tournament and Skills Challenge, a testing ground event. He was one of several former NFL players and celebrities who took to the field, and entertained a crowd of fans at the free event.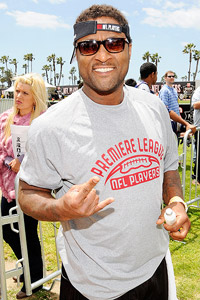 Michael Tullberg/Getty ImagesAndre Rison is bringing his experience and passion for the game back to his hometown.
"I thought I was going to be the only OG out here," joked Rison, laughing as fans reached out to grab his hand, take photos with him or ask him to autograph footballs and collectible cards. "I'm just a player. They blow the whistle, I'm going to get down. I'm going to play ball! Yeah, there are a lot of OGs here, but I feel young out here!"
Rison was joined by guys like Ricky Watters, Willie Gault and Corey Dillon at the game. The 43-year-old retired wide receiver said Sunday that he missed the game, but he won't be away from it for long. Come fall, he takes up a new challenge: He heads back to his hometown of Flint, Mich., to become the new head coach of his former high school football team, Flint Northwestern High School.
"I tell you what, during these economical times throughout the country, Flint has taken the bulk of that. I think our kids deserve it, they deserve a window of opportunity. And I have been blessed by God to have played in the football league so many years. And I have this talent all bottled in and I can't play no more, so I'd rather give it away," he said. "What better place to give it away [than] Flint, Michigan, where the Heisman Trophy was won?"
He's got a tough road ahead of him. In 12 years, his former high school has lost 100 games, he said.
"I met with the kids, I got a great group of kids. It's going to be tough, but not as tough as everybody is making it out to be," he said. "So the only way for us is up.
He's planning on turning the program around pretty quickly; he's already lined up what he called a top-notch coaching staff to help him get the job done.
"I got some guys that been around the game for a long time. Some of them are family members, and I'm looking forward to it, I'm excited," he said. "We plan on winning it all."