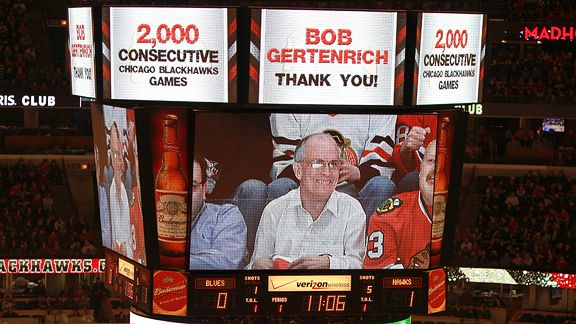 Chicago BlackhawksBob Gertenrich has been a Chicago Blackhawks' season-ticket holder for 44 seasons.
CHICAGO -- When it comes to the Chicago Blackhawks, Bob Gertenrich has seen it all.
Well, almost.
Game 1 of the Stanley Cup finals against the Philadelphia Flyers will mark Gertenrich's 2,022nd consecutive Hawks home game. He's been a season ticket holder for 44 years, yet he's never seen his team hoist the Stanley Cup.
But Gertenrich believes that's about to change.
"I think they could handle Philly," Gertenrich said.
And if the Blackhawks do win their first Stanley Cup since 1961, Gertenrich will be cheering from his seat in section 333 of the United Center.
"These guys are very explosive," Gertenrich said.
Gertenrich has been a Blackhawks season ticket holder since 1966 and celebrated attending his 2,000th consecutive game Feb. 3 this season. He was invited into the locker room to take pictures with coach Joel Quenneville, general manager Stan Bowman and several of the players. Gertenrich was also given a team jersey autographed by each player.
"I was 63, acting like 16 the way I felt," Gertenrich said.
The excitement continued the next day when he received a voicemail from NHL commissioner Gary Bettman. When Gertenrich returned the call, he said Bettman was the nicest guy and asked if he could help Gertenrich with anything.
"I told him I'd been looking for an NHL records book for years but couldn't find one," Gertenrich said. "He said, 'Bob, I'll personally send ya one.' Then I get this 600-plus-page book in the mail. In the front cover was a little note on NHL letterhead that read, 'Good to talk to you. Thanks for being such a terrific fan.' And it was signed 'Gary/B.'"