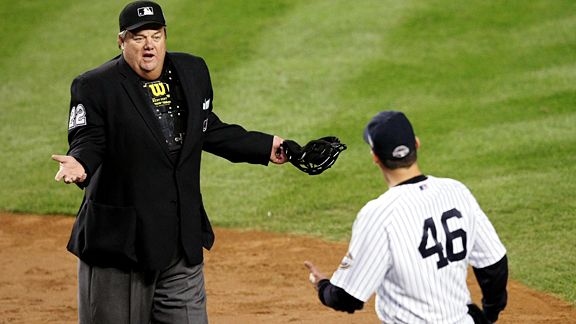 Al Bello/Getty ImagesJoe West isn't saying his critics are wrong, he's just saying that he is right.
Joe West joined Waddle and Silvy on ESPN Chicago to discuss ejecting Mark Buehrle and Ozzie Guillen, umpires in the spotlight, his criticism of baseball, and on if he should be suspended.
On ejecting Ozzie Guillen after ejecting Mark Buehrle for arguing a balk call:
"Ozzie came out to protect his pitcher, which was probably a good idea at the time because Buehrle was drawing lines in the dirt on the mound and he was about to get ejected then. He even said that he was out there not to argue the balk, but to protect his pitcher. He should come out in that situation. I told him, 'Everything is OK now Ozzie, you can go back to the dugout.' He got mad because I told him to go back. And he used a couple profanity laced lines. And that got him ejected. But it was actually not as blown up as it looks like on television. It was kind of funny that he had a tirade at the end of the game because he didn't actually didn't say exactly what happened out there."
On why is allowed to criticize teams like the Red Sox and Yankees:
"I didn't criticize the way the Yankees and the Red Sox play. I actually said that the Yankees and the Red Sox are two of the best teams in baseball. I said that they are not complying with the pace of the game. And what they are doing is both embarrassing and pathetic. If you had listened to the whole interview you would understand that I complemented them for being a good team and I chastised them for slowing down the game for purposed of their own."