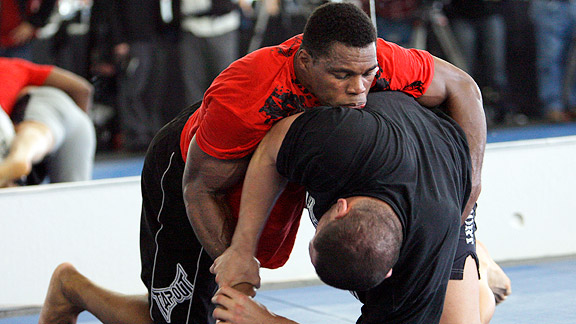 AP Photo/Jeff ChiuHerschel Walker trained and won his first MMA match, but will Shaquille O'Neal be successful?
UFC president Dana White recently said that Cleveland Cavaliers center Shaquille O'Neal has been training in mixed-martial arts for years -- and lobbying to fight in the Octagon for nearly as long. Could Shaq make a successful career switch? If the history of other pro athlete-to-pro fighter crossovers is any indication, results are impossible to predict:
Too Tall Jones
Day job: Havoc-wreaking defensive end for the Dallas Cowboys.
Fighting career: Semi-respectable. Retired from football to go 6-0 as a heavyweight fighter with five KO's between 1979 and 1980 before retuning to the Cowboys; on the other hand, combined record of Jones' opponents was 37-86-1. And Jones' debut fight was marred by accusations that his corner deployed smelling salts while the fighter was on the ground.
Herschel Walker
Day job: Heisman Trophy winner; USFL/NFL running back; Olympic bobsledder.
Fighting career: Respectable. At age 47, won MMA debut match against someone named Greg Nagy, showing still-formidable athletic ability and so-so ground fighting skills.