Paul Pierce was the best player on the court when it mattered as the Boston Celtics advanced to the 2010 NBA Finals.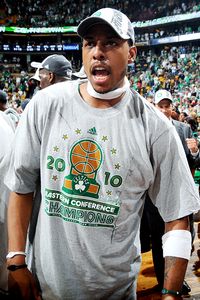 Brian Babineau/NBAE/Getty ImagesPaul Pierce undoubtedly has NBA skills -- even though his look and mannerisms evoke a rec league.
What's amusing is that he just doesn't look the part. Kobe? He looks the part of NBA superstar and has the spectacular superstar game. Not Pierce.
The headband, the knee-high socks, the facial hair scrag, the underwhelming physique, the ginger gait, the "slow-mo, crafty-vet" game -- there's a lot of rec league stuff going on with Pierce.
That's why cats like me have always dug him so much. When my crew and I got on Pierce recently, one of them (who happened to play some D-II college ball) said Pierce reminded him of some older dudes who, back in his college days, would swagger into the gym and kill all the young cats with guile and tricks, all while smoking Newports between games.
It makes you wonder, "Who would make the All-Rec League Team?" Who are the guys over the past, say, 15 years -- since medicine, diets and training have advanced tremendously from where they were even as recently as the Bird and Barkley eras -- with auras that make you envision them coming into a gym, munching on Doritos or putting out a Black & Mild, calling "next," then dropping 10 of 16?