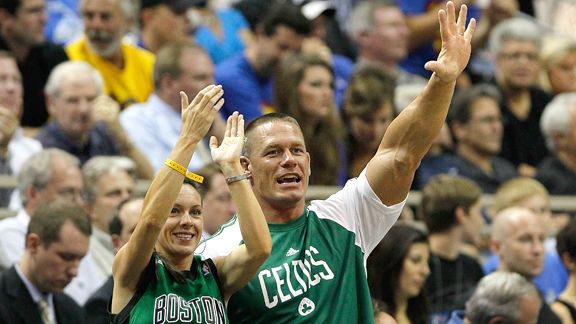 Kevin C. Cox/Getty ImagesPro wrestler John Cena and his wife, Liz, cheer on the Boston Celtics.
John Cena is getting used to this grand marshal thing.
The WWE star presided over the Fiesta Bowl in January, and this weekend takes a similar role at the Pocono Raceway as the co-grand marshal at the Gillette Fusion ProGlide 500 presented by Target.
But on Sunday he'll be sharing the stage with some lucky fans. Cena and a handful of NASCAR drivers including Kyle Busch, Clint Bowyer, Carl Edwards, Denny Hamlin and Kasey Kahne will be going through the crowds before the race introducing people to Gillette's newest razor, the Fusion ProGlide.
"We're going to try to turn them into believers," Cena said. "I'm inviting some of them up on the podium with me and we can all say, 'Gentlemen, start your engines' together."
Cena doesn't just follow NASCAR though. He was born in Massachusetts and counts himself among the Celtics, Red Sox and Patriots faithful. And he's taking Boston in the NBA Finals over the Lakers in six games.
The key, he says, is to stop everyone but Kobe Bryant.
"Whenever you challenge Kobe, if you put two or three guys on him, he's still going to make those shots," Cena said. "As crazy as it sounds, I think the Celtics need to put one guy on him. Let him make those shots, even if he gets 50, 60 points a game, and shut down everyone else."