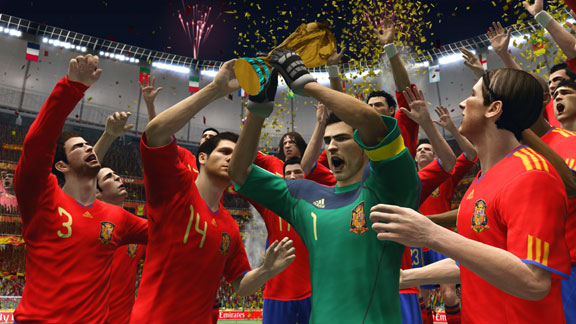 EA SportsAccording to EA Sports, Spain will win the World Cup.
David Villa owns South Africa.
That's right, according to EA Sports' World Cup simulation using the artificial intelligence behind the game "2010 FIFA World Cup: South Africa," not only does Villa win the Golden Boot for scoring seven goals in the tournament, but his two goals in the final game help Spain defeat Brazil 3-1 to become the new champs.
According to EA Sports, here is a recap of how the tournament plays out:
"The Final itself was an epic battle as Brazil put on a dazzling display of free-flowing samba style soccer early on against the Spaniards, taking a 1-0 lead in the 30th minute with a Felipe Melo strike from just inside the box. It didn't take long for Spain to level the score after a goalie error that left striker David Villa in the clear. He tapped in his 6th goal of the tournament in the 42nd minute. The second half saw fortunes turn in favor of Spain, as their disciplined build up play and domination of possession paid off with a goal in the 61st minute when Villa connected for his second goal of the match, off of Andres Iniesta's driven cross. Brazil had several efforts on goal in the final third of the match but couldn't capitalize on its chances as they pushed all players forward in an attempt to draw even, eventually conceding a splendid counter attack goal in the 88th minute from Cesc Fabregas, which delivered Spain the 2010 FIFA World Cup.