While former UNLV basketball coach Jerry Tarkanian was famous for winning the 1990 NCAA title and his success on the court, he was more well-known for a lifelong fight against the NCAA. Now his son, Danny Tarkanian, a Las Vegas businessman and former hoops star himself, is trying to take on a different kind of authority: Democratic Senate Majority Leader Harry Reid.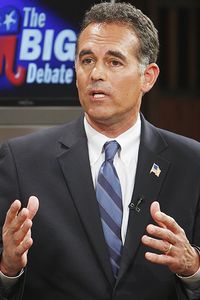 AP Photo/Isaac BrekkenDanny Tarkanian is hoping third time is a charm in running for office.
It's Danny Tarkanian's third time running for office -- he ran unsuccessfully in 2004 for a Nevada Senate seat and in 2006 to be the Nevada Secretary of State. This time, pollsters say he has more than a shot to win in the general election over Reid and is considered the most electable of the Republicans running. First, he has to get past a hotly contested primary Tuesday.
The legendary coach Tarkanian, who underwent surgery late last year to remove a bone spur on his spinal cord, has been fairly absent in the race. But he does check in on his son's progress.
"He always calls and asks how it's going," Danny Tarkanian said. "He's so nervous."
Jerry Tarkanian's interest in politics peaked during the 2008 election, after becoming aware of vice presidential nominee Sarah Palin, who was a junior-college transfer, like many of his players.
"He's been completely apolitical until two years ago when he was watching this lady get annihilated by the media and he found out she was a junior-college transfer who transferred to a four-year college. And he said 'you can have the first junior-college transfer in the White House,'" Danny Tarkanian said. "And he turned off ESPN and started following Fox News and CNN."