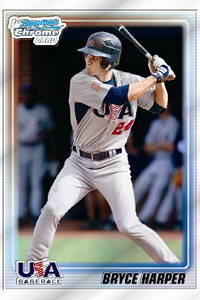 Courtesy of Bowman Bryce Harper makes one last USA Baseball card appearance in 2010 Bowman.
It's been a great 24 hours for Washington Nationals fans, as their team took 17-year-old phenom Bryce Harper with the first pick of the draft Monday night and last year's No. 1 pick, lights-out pitcher Stephen Strasburg, makes his first big league start Tuesday in Washington, D.C.
While the off-the-field euphoria might be at an all-time high, there's a sobering thought for those same fans -- they'll need to take out substantial loans to own all of these players' baseball cards.
Thanks to their time on USA Baseball rosters, these top-notch prospects already appear on a combined 151 baseball cards, and the average values, depending on the types of cards, might surprise even the most hardened collectors -- and absolutely shock the average Joe.
Harper appears on 44 baseball cards, although 20 of them are too volatile or rare (fewer than 25 copies) for Beckett Baseball to publish a responsible average value. The other 24? They're worth a total of $5,032 -- or $209.67 apiece.
What makes the cards of a junior college star worth so much? They're often autographed and often include a slice of a game-used USA Baseball jersey embedded in the card. Here's a breakdown of values for Harper's cards (specific card values can be found on Beckett.com):