Bill Walton is nothing if not effusive. Combined with his obvious knowledge of basketball, it's what makes him a successful TV color commentator.
But even for a man as talkative as Walton, nothing gets him going quite like discussing legendary coach John Wooden, who recently passed away.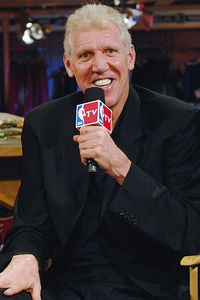 Jennifer Pottheiser/NBAE/Getty ImagesHall of Famer Bill Walton is proud to carry the torch for his mentor, legendary coach John Wooden.
Walton, who lives and breathes each of Wooden's many mantras, is passionate about carrying on his mentor's torch through his work with the Challenged Athletes Foundation, which raises funds to support and rehabilitate physically challenged athletes.
Page 2 caught up Walton to learn more about CAF and the impact of Wooden's passing, and the world.
P2:Challenged Athletes Foundation is a unique charity. How did you get involved?
BW: I had a spinal cleanup, reconstruction fusion. The doctors, physical therapists, their techniques and innovations gave me a chance to play in the game of life one more time.
When I came across some friends who were intimately involved in the CAF, I realized quickly that I had wasted the first 57 years of my life. When you've been on that floor unable to move, you're standing on the edge of the bridge figuring its better to jump than to go back. When you get a chance to play one more time, to play in the game of life, it's your duty, your responsibility to make others people's dreams come true, too.
Everything has changed for me in my life. When you've been where I've been, things are never the same again. It's important to give others that chance, to stand tall with those who can't stand on their own.
I know the importance of sport in the completeness of life. Sport has given me everything. To be able to help CAF, to be able to see the joy, the exhilaration and the spirit of life come back to someone who thought it was all over -- I've been there. I've had a life that was not worth living ... All anybody wants is a chance. It's my job to help give that chance.