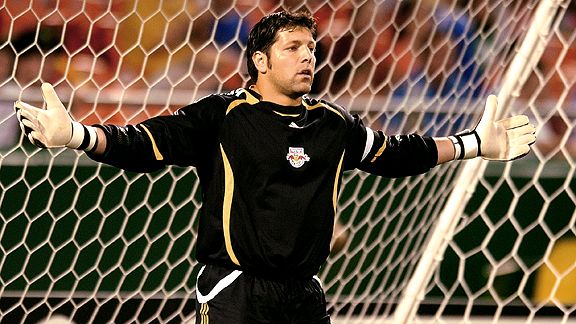 Scott D. Weaver/Icon SMITony Meola tried out as a kicker for the Jets and appeared Off-Broadway in 'Tony and Tina's Wedding'.
Tony Meola is a problem solver.
The former U.S. national soccer goalkeeper coaches an under-13 boys soccer team in Toms, N.J.
Saturday, the team plays in a big tournament.
Unfortunately, so does the national team as the United States plays England at 2:30 p.m. on ESPN in the World Cup in South Africa.
So Meola suggested to the organizers to set up tents and have televisions there so parents, players and fans could watch the U.S. match, while still having the kids take part in the youth tournament.
"I think it's important for our kids to support the United States in the World Cup and learn the sport by watching the best in the world," Meola said. "I know I'm going to be watching with my group of kids. I know those four tents will be pretty full. Not sure how many people will be watching those 22 kids on the field who will be playing at the same time as the U.S.!"
And when it comes to soccer, Meola knows a thing or two. He was goalkeeper on a handful of U.S. World Cup teams, played 10 years in Major League Soccer, played a year of pro soccer in Europe and even played a little in an indoor soccer league in New Jersey.
"It's the world's game. It's part of the weekend tradition for many parents," said Meola, who has three children. "My mission in life is to spread the word about the sport."
And that's why Meola, 41, especially loves coaching youth, especially his children.
"All of them love the game. All of them love to play," he said. "The popularity is continuing to grow in the United States. You can see that. I just want to pass the love along."