Phoenix Suns forward Jared Dudley understands the power of Twitter. He has about 35,000 followers and is trying to market himself for his post-NBA career. He stopped by ESPN's campus Thursday and will make an appearance on Friday's "First Take" facing off against Skip Bayless.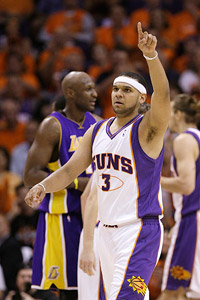 AP Photo/Matt YorkJared Dudley has been having fun with his JMZ show on Twitter.
Dudley knows he'll have to watch his words.
In February, Dudley tweeted: "Top 5 worse NBA cities to travel to lol: Memphis, OKC, Milwakee, Indiana, Cleveland. These are the cities where u know ur gettin room service."
And then: "Honorable mention cities lol: Sac, Utah, Minn, Portland, and Phi. What y'all think, some of these teams are good but the cities not so much lol."
And then: "All these cities having many things in common like: terrible weather, bad nightlife, and not a lot of good restaurants, etc."
Boy, did he hear about it.
"The coach at Oklahoma City talked to me. My GM got upset. Even the NBA talked to me," he said. "I understand how powerful social media can be."
Dudley has learned his lesson and now is very cautious with his words, especially on Twitter.
"I've always been an outgoing guy. But I know as an athlete, I have an obligation to be a role model," Dudley said. "I'm just having fun connecting with my fans. You never know. I might want to do this for a career."