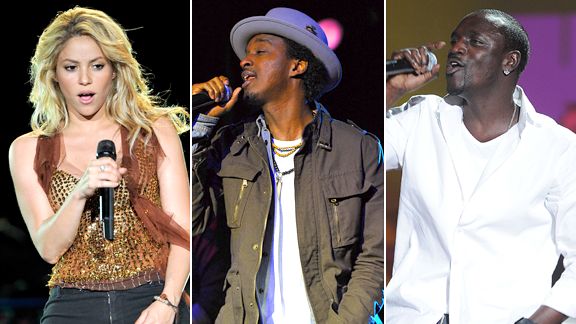 Getty ImagesShakira, K'naan and Akon are lifting the spirits of music fans with their World Cup music.
By now you've probably heard Shakira's or K'Naan's songs promoting the World Cup, and if you haven't, you'll be humming them by month's end.
But the World Cup is the globe's largest spectacle, so naturally two songs just won't do. We've scoured the Web to provide you with 11 songs to vote on, leaving it to you to pick which song (official or unofficial) is the best.
But in reality, does it really matter who wins? The only important thing is that it drowns out the awful vuvuzelas. Unless of course you're into that hornet-swarming sound the South African noisemakers create for 90 minutes.
Song title: "Waka Waka"
Artist: Shakira
Country: Not applicable
Breakdown: Chosen as FIFA's official World Cup song, "Waka Waka" has created a bit of controversy. First, some South Africans are upset the theme for their World Cup isn't being sung by a South African (Shakira is Colombian). Then there's the issue with the song's creators, a pop group composed of Cameroonian presidential guards, who created the song in 1986 to boost troop morale. They claim they were never asked if Shakira could use the song. The two sides have since come to a financial agreement. Jeez, all this stink over a World Cup song? Just wait until we get to England's song situation …