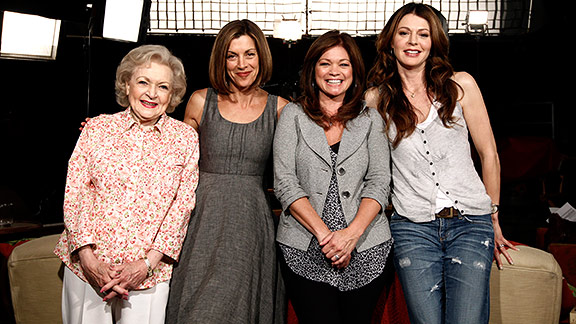 AP Photo/Matt SaylesActresses Betty White, Wendie Malick, Valerie Bertinelli and Jane Leeves star in "Hot in Cleveland."
Actress Wendie Malick has a rooting interest for the city of Cleveland to keep LeBron James.
"He is mentioned in our first show and I'd love to see him make some cameo appearances," said Malick, who is one of the stars of the TV series "Hot in Cleveland", which debuts Wednesday on TV Land. "Yes, I'm looking out for my own interest!"
"Hot in Cleveland" is the story of three friends from Los Angeles -- novelist Melanie Moretti (Valerie Bertinelli), eye-brow archer to the stars Joy Scroggs (Jane Leeves) and former soap star Victoria Chase (Malick) -- who find their lives changed forever when their plane, headed for Paris, makes an unexpected landing in Cleveland.
When they discover that they are hot in Cleveland, they decide to stay. Starting over, they rent a house that happens to come with a very feisty caretaker played by Betty White.
"When you're older than 40, you sort of get lost in the shuffle," said Malick, who is actually 59 but looks 45. "So we made this show about the stories of these women, who have made a radical shift in their lives."
Malick said the show isn't "poking fun" at Cleveland.
"A lot of time our industry forgets about the Midwest. The people there are kind and generous. And they don't obsess over the superficial," said Malick, known for her starring role on "Just Shoot Me!". "We wanted these four women immersed in that."
And LeBron?
"I want him to spend his entire career in Cleveland. He's loyal to his friends and his hometown," she said. "And it wouldn't be too bad for us either."