Why are there Legos in the visitors clubhouse at Progressive Field?
Because Wayne Peltz put them there.
But we're not talking about a bunch of toy boats and cars made out of plastic building blocks. Petlz, the Cleveland Indians' assistant clubhouse manager for the visitors' side, has turned these Legos into art. Portraits, to be exact.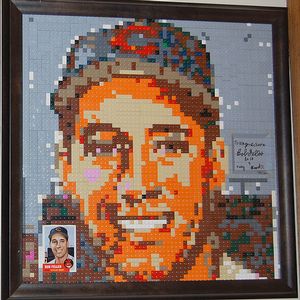 Wayne PeltzYou have to admit, the resemblance to Feller is scary.
Peltz, a Cleveland native, has been working for his hometown team for seven years. Inspired by former Indian Jamey Carroll, who used to do some drawings around the clubhouse, Peltz wanted to make a mark of his own.
"But my drawing abilities are on par with a 5-year-old. I'm terrible at drawing," Peltz said. "I sat around and had to come up with something, and somehow I stumbled onto this."
Peltz wasn't a Lego-maniac growing up, though. He played with them, but was more into video games. Now he spends roughly 20 hours with the little blocks just to complete one portrait. He's finished eight so far, and not all of them are baseball players. He considers his Lego likeness of Michael Jackson to be his favorite.
"I was a big fan of his. I used an old Andy Warhol photo and it looked really great," Peltz said. "Everyone's got their own favorite though. People love my [Bob] Feller and I'm not a huge fan."
The next big project for Peltz is a portrait of four Yankees. He's already finished Lego Mariano Rivera and is currently working on Jorge Posada. The other two Bronx Bombers he plans to include are Derek Jeter and Andy Pettitte. But it could come down to the wire. Peltz has time to work on his portraits only when the Indians are on the road, and right now they are in the middle of a 10-game home stand.
"The Yankees come in the last week of July, so I only have two or three weeks to finish it if I want to get it framed and everything in time," Peltz said. "To be honest, it could be a rough deadline to make."