Stephen Strasburg's spectacular debut provided a huge pick-me up for Washington Nationals fans. Now, thanks to a fortuitous last name and enterprising local restaurateurs, he's having an impact on the local culinary scene as well.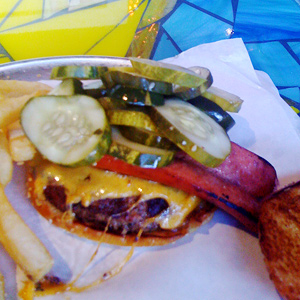 Toby MerglerThere are 14 pickles on the Strasburger at a Washington, D.C., restaurant chain.
Nate Ripley and Mark Bucher, owners of BGR The Burger Joint, take pride in both the creativity of their menu and connecting with the local community. Enter their specialty item of the month -- The Strasburger.
While several similarly named burgers have popped up around town, none are quite as inspired as this one. The burger was designed to contain ingredients charting Strasburg's path to the majors. They start with their normal hamburger patty and then butterfly a hot dog on top to celebrate Strasburg's pro debut with the Phoenix Devil Dogs from the Arizona Fall League.
Next, they give the burger a layer of orange cheese (Vermont aged cheddar) in honor of Strasburg's stop in AAA Syracuse. When asked why they skipped AA Harrisburg, Ripley said "you can only fit so much on one bun."
Finally, the burger is topped with one pickle for every strikeout Strasburg recorded in his debut. They were expecting to add five to six pickles (a mere mortal number according to Ripley), but now 14 pickles are piled high on top.
The Strasburger has been extremely popular since its debut, and sales have surged at all four The Burger Joint locations. Word of the success has spread and other players have begun to reach out to the owners to design a burger after them (our top suggestions -- the Ryan Zimmerman Hot Corner Jalepeno Burger and the Bryce Harper Eye-Blackened Burger).
But for now, Washingtonians can continue to enjoy their Strasburgers, which will be available for the rest of June. They are always tinkering with the menu at The Burger Joint, but if the Strasburger makes a return, Ripley would make one change.
"Next time, I hope it has 15 pickles."