By the time the June 30 contract option deadline strikes, countless God-fearing NBA fans will have waged persuasive words on behalf of their cities' unrivaled capacity to adopt LeBron James.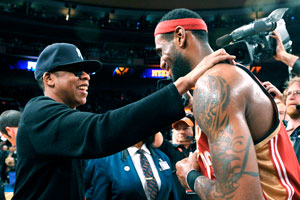 AP Photo/Kathy KmonicekWhile Jay-Z remains quiet, musically anyway, about the subject, many other artists are trying to coax LeBron James to their cities.
In these days of seismic solicitation leading up to the big decision, billboards wheedle LeBron with 6-foot font, New York City's mayor courts King James via video Bible verse, and even the president of the United States, Barack Obama, has weighed in with his oval opinion.
No one is holding back; but even if LeBron were listening to everybody's two cents, it would be impossible to make sense of all the noise.
Hans Christian Andersen once said, "Where words fail, music speaks." And that's why the beat of a melodic movement is cutting through the static surrounding our favorite 25-year-old two-time defending MVP. In an effort to up their respective team's curb appeal, artists of all musical abilities have chimed in with convincing compositions beseeching The King.
In Ohio, Gov. Ted Strickland joined Sen. Sherrod Brown and other Buckeye State celebrities for the singing of "Please Stay LeBron," performed as a parody of the 1985 charity music video single, "We Are The World."