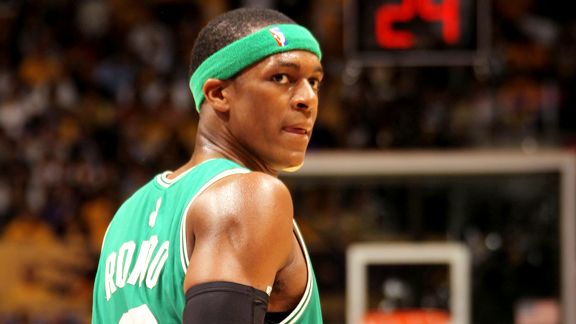 Nathaniel S Butler/NBAE/Getty ImagesBoston Celtics guard Rajon Rondo makes Page 2's list for our All-Autos Team.
Forget about the Big Three. Here are our Big Ten -- not likely to expand to 12 -- on the All-Automobile Team for 2010:
LeCharles Bentley: If the former Saints center wants to purchase one of his namesake British vehicles these days, he'll need as much as $231,400. And by namesake, we mean Bentley. As far as we know, LeCharles is not on the market in 2010.
Dedrick Dodge: NFL receivers had a hard time dodging Dedrick, a former Florida State Seminole who won Super Bowl rings with the 49ers (SB XXIX) and Broncos (SB XXXII) in a six-year pro career.
Keisuke Honda: He's not related to the automaking dynasty, but Keisuke Honda, a member of Japan's World Cup team, does come from an athletic family. An uncle participated in the canoe events in the 1964 Olympics, and a cousin was a wrestler in three more Olympics.
Lincoln Kennedy: Might be captain of the All-Presidential Team one day. Born Tamerlane Fizel Kennedy, he acquired the nickname Lincoln from his mom, who was also born on Abraham Lincoln's birthday of Feb. 12. The youngster took a liking to the name, and he made the legal change shortly before entering the NFL in 1993. He played with the Falcons and Raiders in the NFL and even took a stab at arena ball as a 36-year-old in 2007. He's now a broadcaster for Fox.
Marcus Liberty: Allegedly next in line of great Chicago players (Doc Rivers, Mark Aguirre, et al) when he came out of high school in 1987, Liberty never quite justified the hype. After four seasons with the Nuggets and Pistons, NBA teams offered him as much freedom as the Jeep Liberty provided an adventurous driver.