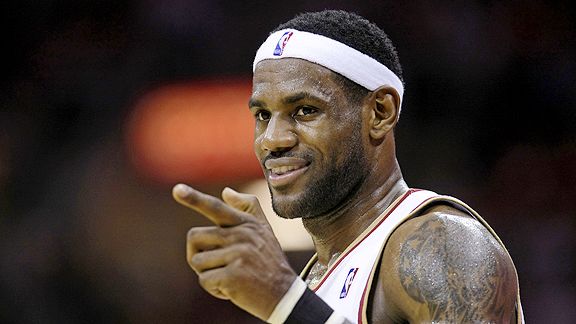 AP Photo/Tony DejakIt's going to be a big week for LeBron James. What will he do?
It's going to be a big week for LeBron James. Will he decide to stay in Cleveland or bolt for Chicago, New York or somewhere else?
Here are five great quotes about LeBron James:
1. "The future is yours, but thanks for letting us have it one more year."
-- Tim Duncan, said to LeBron, after the Spurs swept the Cavaliers in 2007 NBA Finals
2. "As big as he is, you hope he just doesn't run you over and give you a concussion."
-- Stephen Jackson, on the strength of LeBron
3. "I fantasize about LeBron's ability. He is the best player I've ever seen at his age."
-- Rick Barry, NBA Hall of Famer, on LeBron
4. "For 16 years it was about me. Now, it's all about him."
-- Shaquille O'Neal, on being acquired by the Cavs to play with LeBron
5. "When you have that type of mind and you have the talent that he has, he can do pretty much whatever he wants."
-- Nate McMillen, former NBA player, on the greatness of LeBron
To read more sports quotes, check it out here.