No two teams captured the crazy Technicolor spirit of 1970s uniforms better than the A's and the Pirates. Too bad they never met in a World Series, and interleague play didn't exist back then.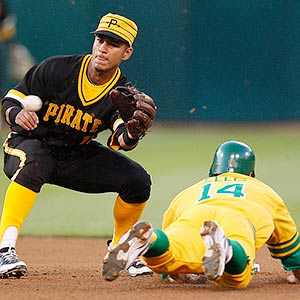 AP Photo/Ben Margot
Ah, but it does now.
Those photos are from Saturday's Pirates/A's game, a full-on 1970s spectacle that no doubt caused a spike in sunglasses sales and maybe induced a seizure or two along the way. All they needed was Rollen Stewart in the crowd and the whole thing would've been perfect.
And that was just the tip of the weekend's throwback iceberg. It's fairly rare to see both teams wearing retro attire in an MLB game (the home team is responsible for the entire promotion and usually doesn't want to spring for the visiting team's throwback uniforms), but that was the case for Friday's Brewers-Mariners game and Saturday's Nats-O's matchup. Heck, that game in Baltimore even featured what's likely to go down as the best-looking wild pitch of the year.
Now we just need an Astros-Padres thowback game, circa 1977 or so, and we'll be all set.