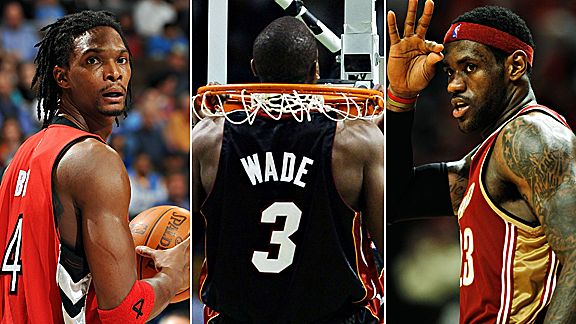 Getty ImagesChris Bosh, Dwyane Wade, LeBron James … the basketball isn't big enough to go around, is it?
To borrow a well-worn corporate catchphrase that just as easily could come from Jack Bauer's clenched, insistent jaw: Just do it.
Like, now.
Don't hesitate.
Make it happen.
This has to happen. Needs to happen. There is no Plan B. (Unless you're the New York Knicks. In which case, enjoy Joe Johnson and another decade of complete and total irrelevance!) According to reports, NBA free agents-to-be LeBron James, Dwyane Wade and Chris Bosh are considering joining forces by signing with the Miami Heat, creating a superstar, super-powered alliance to shame NATO, the 2003-04 Los Angeles Lakers, the Galacticos-era Real Madrid, Devastator from "Transformers" and every time the Wonder Twins bumped fists to become an eagle and a bucket of water.
I'm all for this. Nearly salivating. Can't wait, actually. Because in forming a too-big-to-fail uber-squad, James & Co. would give me the one thing I'm missing as a basketball fan.
A new team to wholeheartedly detest.