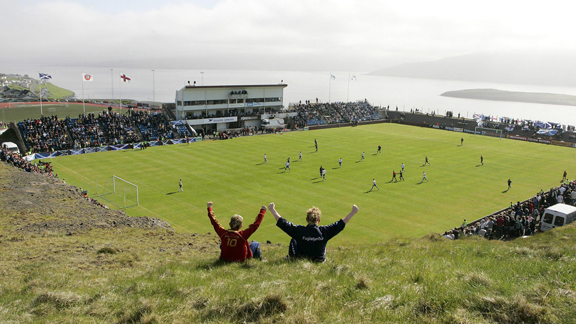 Andrew Milligan/AP ImagesThere aren't many more picturesque settings than Svangaskard Stadium.
Best Cheap-Seats View
Forget Wrigley or Lambeau. For a really picturesque setting, head to Svangaskard Stadium. "We see a lot of interesting places, but nothing like this," says Brittney Thomas of Vivid Seats, a ticket brokerage. Located on the Faroe Islands, halfway between Scotland and Iceland, the 6,000-seat home of the B68 Toftir village soccer club also hosts international matches, including World Cup and Euro qualifiers. (Yes, the plucky Faroe Islanders have a national team.) Svangaskard, abutted on two sides by the North Atlantic, looks out at mountains towering over the sea, which provides a serious world's-edge vibe. Totally beats a wallful of overgrown ivy.
Best Virtual Sports Experience
Watch out, Wii: Xbox 360 is aiming to make it "game over" with Kinect. "It has the potential to bridge the gap between casual and hard-core gamers like nothing I've ever seen," says The Mag's Gamer columnist Jon Robinson. Three years in the making, Kinect uses full-body-scan technology to make the player the remote control. You kick, your avatar kicks. You drop back to pass, it drops back to pass. There's voice recognition, too. Kinect has also launched a partnership with ESPN, so soon you'll be able to watch sporting events on the worldwide leader's family of networks while interacting with other fans via Xbox 360. The first wave of Kinect-enabled sports games, including track and field, soccer, bowling and beach volleyball, hits in November. Your move, Wii.