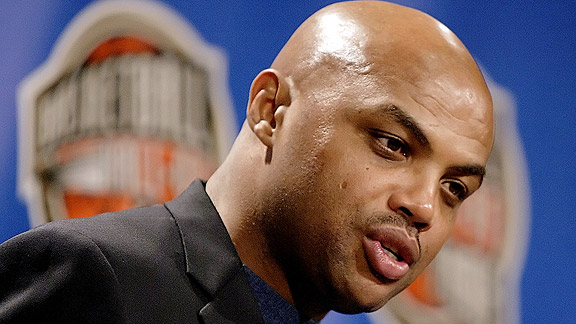 AP Photo/Stephan Savoia
Charles Barkley joined The Dan Patrick Show to talk about LeBron James, the Cavaliers and how the 2010 free agency season will play out.
On how surprised he was when he heard Byron Scott accepted the Cavs' head coaching job:
"Totally shocked. But I've been one of the few people all along, and I'm going to stick to it: LeBron James is staying in Cleveland. I think that it's a once-in-a-lifetime opportunity if he wins a championship in Cleveland. That's the thing that people aren't talking about. I think the Cavaliers are one of the five or six best teams in the NBA. People act like they stink. They [need] nice piece here or there. But they're one of the five or six best teams in the NBA, and I'm hoping LeBron stays in Cleveland."
I think Byron wanted a job, period, but I've said this all along, anyone who would take that job without LeBron is just stupid because I think you're going to get fired. Look at it realistically, who's the second-best player on the Cavaliers right now? I always tell people -- when people ask what I think of their team -- the first question I ask them is, 'Who's your best player?' And if they don't know the answer within two seconds, their team isn't any good. Like right now [with the Cavaliers], it's (Antawn) Jamison, Mo Williams, (Anderson) Varejao, and Delonte West. They're all good players, but there's no best player."
On if any teams are going to be left out in this process:
"Well, here's what I think is going to happen, Dan. Let's cut out all the bull about these players. There are two franchise players. LeBron James and Dwayne Wade. That's it. Let's stop there. All those other guys, they're good players who are trying to piggy-back. What's going to happen is that a bunch of those guys are going to get overpaid. Because New York, New Jersey, Chicago, when those teams don't get LeBron -- or even if they do get LeBron -- they're going to have to overpay for somebody else anyway. Somebody is going to get overpaid. LeBron is going to get paid, and Dwayne is going to get paid. But those people in New York, they're not going to let the Knicks stink for another year."
On who is the best free agent after LeBron James and Dwayne Wade:
"I might go with Carlos Boozer. I think Boozer is probably the most consistent. Amare is probably the most talented, but Amare's got red flags. He's got the knee issue and he's got the eye issue. Those are things that concern me. He's had micro-fracture surgery, and if you look at all the guys who have had micro-fracture surgery -- whether it's Chris Webber, Jamal Mashburn, Penny Hardaway -- all those guys' careers have been cut short."
• Click here for a full transcript of highlights from the interview