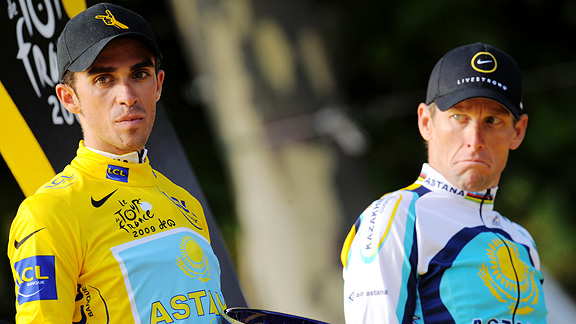 Patrick Hertzog/AFP/Getty Images
This year's Tour de France features the sort of intense, bitter, nasty, petty, back-biting, name-calling rivalry seldom seen outside of a married couple arguing over the remote control: Lance Armstrong versus Alberto Contador.
The two were teammates last year, though only in the sense that they both rode for Team Astana. Lance and Contador made Kobe and Shaq seem like Bert and Ernie. There are American tourists who have had better relations with Parisian waiters than the two cyclists have with each other. If Astana had a slogan, it would have been "I know you are but what am I?"
Lance complained during the 2009 Tour that Contador was not being a team guy, ducked the team party after Contador locked up the race on the Mont Ventoux climb and has ripped him on Twitter so often I think he just sent a tweet accusing Contador of only tipping 10 percent. Contador, meanwhile, said relations were so strained during last year's Tour that he rode two races, "one on the road and one in the hotel. ... The days in the hotel were harder than those on the road."
The two are riding for separate teams this year (Armstrong for Team RadioShack, Contador still for Astana), but what I would love to see is these two ride this year's Tour together on a tandem.