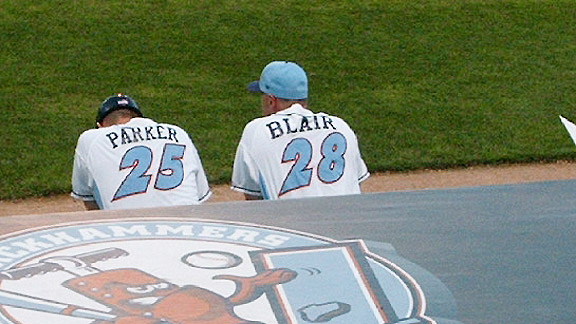 Matt Lindner for ESPN.comWillie Blair, who lives in Kentucky, travels nearly 7 hours to coach a team in Illinois.
JOLIET, Ill. -- Former Tigers pitcher Willie Blair knows there is a price to pay for chasing his dream.
After dabbling in the storage business and coaching the junior-varsity baseball team at Lexington Christian (Ky.) high school, Blair was offered a chance to get back into pro baseball as a pitching coach with the independent Northern League's Joliet Jackhammers. The offer meant giving up his JV team and moving six-and-a-half hours from his family.
But he did it.
"I think I need to prove that I can do this and this is really what I want to do," he said. "So far, I feel like I've done that."
But it's not easy. Blair, who was 60-86 with an ERA of 5.04 in 12 major league seasons, has seen his family only once -- for his daughter's graduation from the University of Kentucky -- since joining the Jackhammers in April.
"I just felt like if I was going to make this my career," Blair said, "I needed to take advantage of this."
Blair believes his decision to move 400 miles from his family and throw himself head-first into coaching will send a message decision-makers in the majors about how serious he is about getting back into baseball.