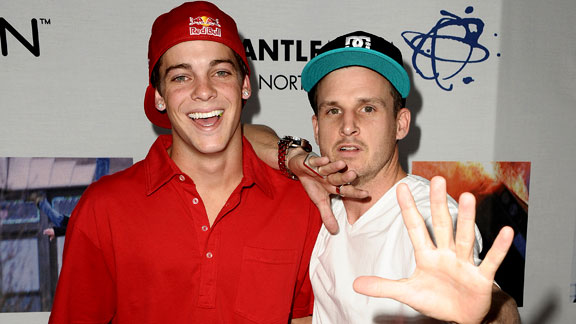 Getty ImagesRob Dyrdek, hanging with our buddy Ryan Sheckler, is coming to ESPN.
Two days ago, Street League and ESPN announced the inking of a multiyear partnership that ensures a television home for the league. Much has been made, here and elsewhere, of Street League founder Rob Dyrdek's aggressive plan to build a contest circuit with the exclusive support of the best street skaters in the world. After an initial news release several months ago, Dyrdek was all but silent on the topic, turning down interview requests, and letting the speculation on who would or wouldn't sign on and what it all might mean for skateboarding run rampant. Now, in a wide-ranging interview with ESPN.com, Dyrdek addresses the new TV deal, how his league will differ from what's come before it and how the deal will affect skater exclusivity regarding this summer's X Games.
ESPN.com: Why was a TV deal so important to the overall Street League business plan?
Rob Dyrdek: I want to build an elite property, and TV is a part of that. It needs to be built with partners who believe in the long term; it couldn't just be someone who wanted to put it on TV. That's why I chose a multiyear deal as opposed to just going out and getting the thing on TV.