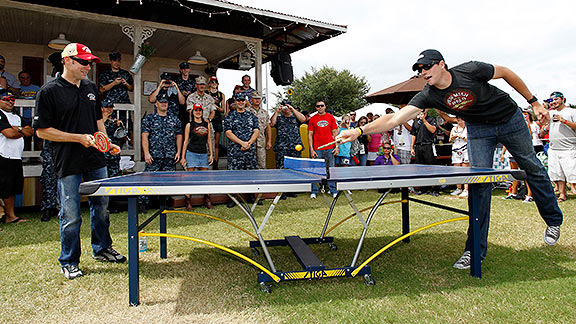 Jeremiah Weed/Getty ImagesTennis player John Isner played Matt Kenseth in ping pong and beat him 7-3 this past weekend.
John Isner may be the #19 ranked tennis player in the world, but he grew up in Greensboro, N.C.
That's NASCAR country.
So after breaking records at Wimbledon with the longest match in history, Isner spent this past weekend taking in the Sprint Cup Series race at Daytona.
"My older brother is a big fan of NASCAR, so I just followed in his footsteps. I'd never been to Daytona [before this], but I have been to a bunch of races," Isner said. "Growing up I liked Earnhardt and now Dale Jr."
He's also a Matt Kenseth fan. So he jumped at the chance to take on the driver of the No. 17 Jeremiah Weed Ford Fusion in a game of ping pong before the race. In honor of Isner's southern roots and their Southern Style Sweet Tea Vodka, Jeremiah Weed hosted the match at their Backyard set-up at the track.
But knowing what Isner had been through at Wimbledon in those epic 183 games and not wanting to wear down Kenseth, the match was set at just 10 points.
"I was expecting probably 9-1 or 8-2, but had to settle for a 7-3 victory," Isner said. "The conditions were tough though. It started to rain a little and it was windy. It leveled the playing field a bit and that's probably why he got three points off me."
Even in a friendly game of ping pong, Isner is always striving for more. After debuting at 839th in the world in the summer of 2007, he's climbed inside the top 20. All this from a player who wasn't even thinking about professional tennis until his junior year of college.
Now he's got his sights set even higher. No. 1?
"I sure hope so. That's the ultimate goal," Isner said.
Getting to hang out with NASCAR drivers along the way isn't a bad perk either. Now if he can just get Matt Kenseth or Dale Earnhardt Jr. to let him take a lap.
"That's something that a couple of my friends have done that I'd absolutely love to do," Isner said. "But I just want to sit in the passenger seat."