The word went out early Monday morning to Miami Heat fans. Show up at 8 a.m. and welcome Dwyane Wade back to South Florida, they were told. So they did.
Right time. Wrong location.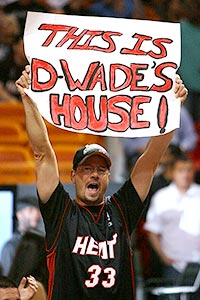 Doug Benc/Getty ImagesWill Dwyane Wade stay in Miami? His fans are worried.
Wade arrived back in Miami, but instead of flying on a private jet into a charter facility -- as the Heat marketing department expected -- he took a commercial flight from Charleston, S.C., into one of the airport's main terminals.
So about 50 Heat fans, as well as a handful of team employees, left without a glimpse of Wade, who is expected to decide his playing future in the coming days.
So, while we're waiting, let's look at 5 great quotes about Wade:
1. "It's kind of ridiculous that you're this good."
-- Knicks Coach Mike D'Antoni, said to Wade after he destroyed the Knicks in a game
2. "Wade creates moments that make you forget you're a coach."
-- Magic Coach Stan Van Gundy
3. "It's my job to make him the best player to ever play the game before I leave. I think I have the ability to do that, and I think he has the ability to become that."
-- Shaquille O'Neal
4. "Life is not measured by the number of breaths you take but by the moments that take your breath away. That's what Dwayne is all about."
-- Pat Riley, on Wade
5. "I just give him the ball and get out of the way."
-- Point guard Jason Williams asked what he did to help Wade succeed as the MVP of the 2006 NBA Finals