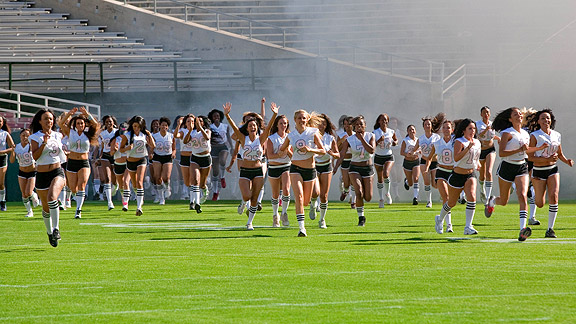 Courtesy of VH1One of these 85 girls has touched the heart of Chad Ochocinco. Find out starting Sunday.
Chad Ochocinco is going from dancing to dating -- in a very public way, again.
Begining Sunday on VH1, watch the Bengals receiver and "Dancing with Stars" alum search for love, or something like it, on "Ochocinco: The Ultimate Catch", a reality dating series from Juma Entertainment and 51 Minds. Spoiler alert: with the help of his "adviser," Lions wideout Nate Burleson, and occasional guest star, Terrell Owens, Ocho does score. No spoiler necessary here: the man who was born Chad Johnson and changed his name because the mood struck will entertain the hell out of you throughout.
He promised as much in a phone chat with Page 2 Media Blitz.
How does it feel to have 85 pretty ladies fighting over you?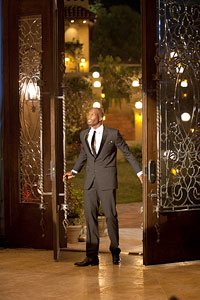 Courtesy of vh1 Chad Ochocinco said he thinks he has found his girl.
It's really not about fighting. The purpose is to finally succeed at something I continue to fail at every year -- finding true love.
You're rich, funny and famous. The ladies say you're good looking, too. Why can't you find a girl on your own?
Man, I don't know! Believe me, I've tried. I've been doing it on my own for years. It hasn't worked. I have no idea what I'm doing wrong. That's the whole point. I'm trying to figure that out.
I'm dating this girl who needs her bed sheets folded a certain way or she can't sleep --
What?! That's crazy.
Yeah, scary. So, what types of quirks scare you off from a woman?
Nothing like that. I'm simple. If you've got a mani and pedi, you're good to go. There's no such thing as a dream girl. There are so many women on this show with qualities I like. Looking good is fine, but I'm looking for personality and substance. Someone who keeps my interest. Someone with energy, who's funny, unpredictable and looking to be spontaneous, like myself.
Have you found her?
Oh, yeah. I found somebody who fits the bill damn near to a tee. I don't know where it'll go. But it's going to go somewhere, I know that. I don't have a game plan. You know how on Sundays I never know what I'm going to do? Same with this show. I'm unpredictable. I talk a lot. I do a lot of antics. You never know what's going to happen. I don't even know what the hell I'm going to do on any given day. That's what's going to make this show so interesting.