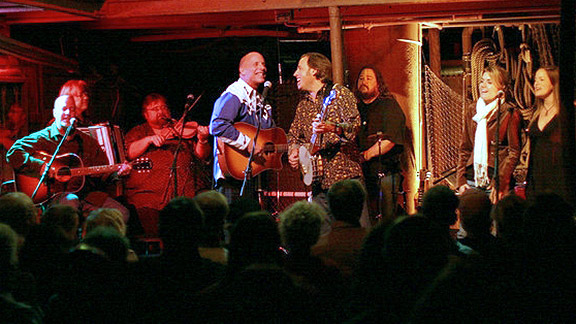 Dennis Anderson photoTim Flannery and The Enablers perform aboard the historic Star of India ship in San Diego.
SAN FRANCISCO -- When he's under the bright lights at AT&T Park, San Francisco Giants third base coach Tim Flannery has to think quickly.
"The scoreboard dictates how you make your decisions," said Flannery, who admits that he sometimes finds himself sprinting "up and down the line to buy an extra moment."
But when he's clutching a guitar on a candlelit nightclub stage, Flannery doesn't keep score or angle for more time. The critically acclaimed singer/songwriter has all the time in the world when he plays bluegrass ballads. On stage, he's accompanied by an orchestra of banjos, guitars and accordions and plays packed small- to medium-sized venues, telling stories about his life, his travels and the "characters" he's met along the way.
He's played with Tony Gwynn and coached Barry Bonds, and has performed live gigs with the likes of Merle Haggard.
"I'm a baseball man who's always played music," said Flannery, who cites his primary musical influences as the Kentucky hillsides and his Celtic roots.