Baseball card collectors who rip into packs of the new Allen & Ginter cards when they arrive already know what's in store.
The unexpected. (And that's not even a nod to card No. 130 -- we'll get to that.)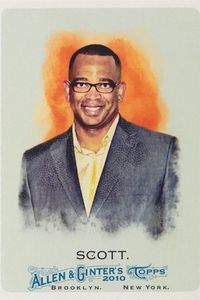 toppsESPN personality Stuart Scott has his own trading card.
You see, since 2006 Topps has turned back the clock to the late 1800s for one of its most popular brands of baseball cards in Ginter. It's a set that celebrates "world's champions" in sports -- and a few other pastimes, too -- in the same manner as the first set of tobacco cards to feature baseball players. The 1887 Allen & Ginter N28s also included boxers, wrestlers, billiards stars and more on cards that were primarily meant to help stiffen up packs of cigarettes and protect the smokes.
The fifth edition of the modern Allen & Ginter line includes a few modern-day celebs, historic figures and much, much more alongside the likes of Derek Jeter and Albert Pujols. It's a 350-card set that's heavy on baseball -- but also on variety and, well, flat-out weirdness.
Here's a look at eight of the interesting cards found in this year's set.
Preston Pittman, turkey-calling champion (card No. 176)
Pittman's card notes that he was born two days after Thanksgiving in 1953 and that he won his first turkey-calling title at age 16. Also on his resume are five world titles and seven national championships -- along with, at long last, an appearance on a baseball card.
Jordin Sparks, American Idol champion (card No. 216)
The Grammy-nominated singer has a pair of albums, one of which went platinum, a dad who played in the NFL (Phillippi Sparks) and, of course, an Idol title. Now, the dedicated Phillippi collectors have something else they need to complete their collections. Dad's Topps Rookie Card from 1992 is worth just a nickel -- something tells us this card will top that.