It doesn't have the party animal reputation of the Stanley Cup, but the FIFA World Cup Trophy -- the golden statuette up for grabs Sunday at the 2010 World Cup final between the Netherlands and Spain -- is something special in its own right.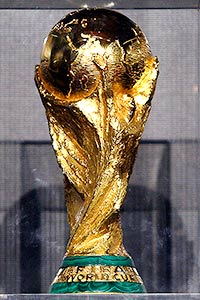 AP Photo/Ibrahim UstaSpain and the Netherlands will by vying for this trophy on Sunday.
Since the trophy made its ceremonial debut at the 1974 World Cup, heroes like Franz Beckenbauer and Ronaldo have triumphantly hoisted it. It's been kissed, hugged and paraded around World Cup final venues by dozens of victorious players.
Credit Italian artist Silvio Gazzaniga for the trophy's creation. Weighing in at just over 13 pounds and measuring 14.5 inches high, it's made of 18-karat gold highlighted by two sculpted figures rising up from the base to symbolize athletes in the moment of victory. That green-colored mineral forming the base? It's malachite. On the bottom is an engraved listing of all World Cup-winning teams since 1974.
Now if you're looking for tabloid-worthy stories, you'll have to turn the page back to the predecessor, the Jules Rimet Trophy. It was awarded to the World Cup winner from the competition's inception in 1930 through 1970, when it was given to Brazil for winning the tournament for the third time.
Originally titled Victory and re-named in 1946 after the creator of the World Cup, the Jules Rimet Trophy was said to be hidden under a FIFA vice president's bed during World War II to prevent its seizure by occupying troops. Later, it was notoriously nabbed while on display in England in 1966, but a dog named Pickles, while on a walk with his owner, recovered it in a garden.
Then, in 1983, 13 years after Brazil took it home for good, it was stolen in Rio de Janeiro and presumed to have been melted down by thieves. (A replacement was later presented to Brazil.) Nowadays, teams don't get to take the trophy home; FIFA retains possession while a gold-plated replica goes to the victors for keeps.