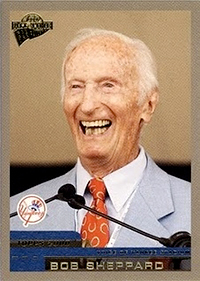 ToppsBob Sheppard had a trading card in a limited edition.
Bob Sheppard worked in baseball for more than 50 years, introducing some of the greatest players in history as the public address announcer for the New York Yankees.
And although his "rookie season" coincided with Mickey Mantle's in 1951, it took another 53 years for Sheppard's first baseball card appearance when Topps included him in its 2004 All-Time Fan Favorites set.
As Mel Allen used to say, "How a-bout that."
Fan Favorites was a mishmash of designs from the Topps baseball archives -- memorable looks from 1951 forward re-used along with memorable players, managers and others in baseball's past. Sheppard's card, No. 15 in the set, used the 2000 Topps design, a nod to the Yankees' then-most recent championship.
Sheppard, who died Sunday at age 99, signed just 10 copies of the card for Topps to place into packs of Fan Favorites. That version of the card commands attention when it hits the market (easily a few hundred bucks) in part because of its scarcity alone.